Discussion Starter
·
#1
·
Albeit I do have the Navigation Plus, the sound coming from the Seat Sound System speakers needed a bit of twigging. The centre speaker to me has too much power going to it and gives too much mid range. This is most noticeable. Changing the centre of the sound image doesn't help.
My best settings were these:
Knock the mid range down, put the tweeters up and the upper base up (edit also lift the lower base to the upper base - final analysis):
Keep the rear subwoofer as is and the image as the centre (defaults):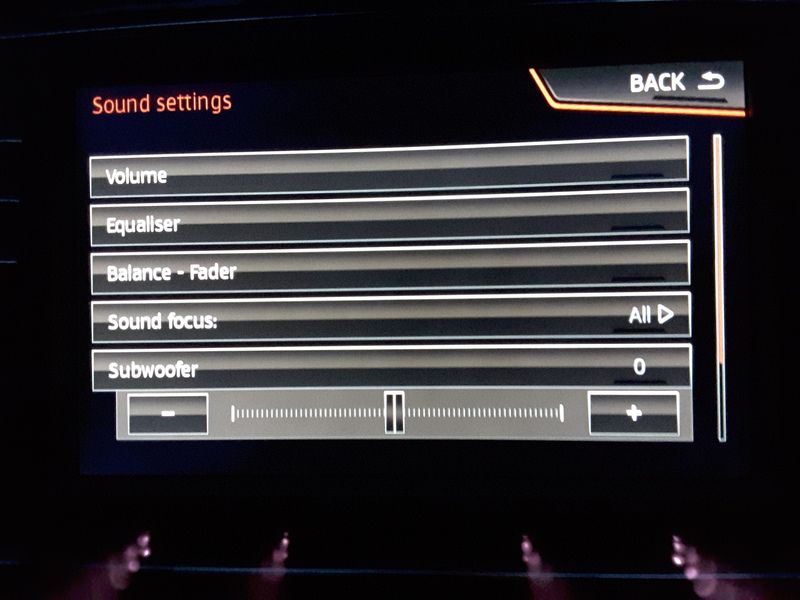 This twigging to me and the partner made the sound better and more natural.
Anybody else finding too much sound coming from the centre and found this twig useful I suspect the standard headend with the Seat Sound System is much the same. Possibly what is happening is the dolby surround sound type of stage for the speakers is putting too much speech frequency on the centre, pulling down the 1kHz band adjusts this out so you get the normal sound stage.
Footnote: possible still need to put the lower frequencies up a bit more, one on the left and maybe the subwoofer. Reduction in the mid range is the secret of fixing the centre speaker dash waffley sound. Was listening to Håkon Kornstad, Symphonies in My Head, where the base saxophone should be pretty deep, could have been deeper, the spital in the mouth piece was accurately reproduced.
Note that the proximity beam which is hidden from human eye is revealed on all of the screen pictures along the bottom.