Can't go without a nice Nevada white one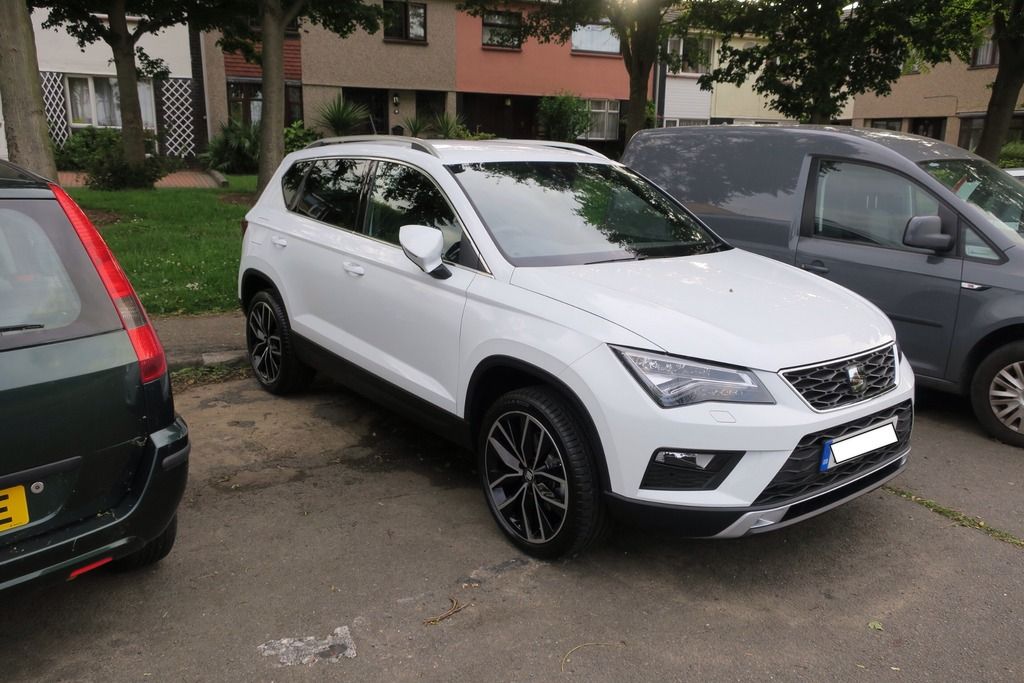 ateca xcellence 1.4 ecotsi 150ps DSG Nevada white.
---
---
Nevada white
+ 1.000.000
1.4 TSI, manual, Nevada white, Xcellence, sunroof, 18" machined, electric boot, rear camera,...
---
---
So true. I hate coming to these forums past few weeks seeing Nevada Atecas while i'm still waiting
ATECA Xcellence 1.4 TSI
Ordered 2016 Nov, but
cancelled
after 8 months wait time
Bought Karoq 1.5TSI DSG
---
---
Arghhhhh..... decisions.... I have ordered a Lava Blue but keep looking at other colours especially the Samao Orange!!!! nice head ache to have i'm told I have 30 days to decide on final colour from the dealer, hope this is true! will need this time to go colour hunting...
Samao Orange XL Lux, pano roof, tow bar and all the bits n bobs....
---
---
I wanted Orange as it looks great in the brochure pics. As I couldn't see one in the flesh I ordered Silver. I have seen an Orange one since and it was not as bright as it looked in the pics, so I am happy with my choice. The silver really glows when the sun is out (most of the time here in Spain).

Unless you are getting the FR, the contrast between the black trim and the colour is important. The black trim looks better with the lighter colours especially if you get the side mouldings that are on the FR. It gets a bit lost on the darker colours.

Ultimately it is down to personal choice and there is no substitute for seeing the colour in the flesh, on both a sunny day and a grey wet day as they can look very different.
1.4TSI DSG Xcellence delivered 2/3/17 after 6 months wait. Brilliant Silver. 18" machined alloys. Park Assist. 360º cameras. Power boot. All driver assists. Alcantara. SEAT sound.
---
---
Such a subjective topic...

I'd agree with Fred... Check the colours out on a bright and overcast day.

Personally, I feel the darker colours help to show the body contours off a little more. The contrasts between the upward and downward facing surfaces along the crease lines on the car are a lot more apparent on a darker colour due to the deeper reflections.



I almost went for Samoa Orange but then ordered Rhodium. A week later I changed it to Black Magic after seeing one on this forum. Then a week later changed the order to Lava Blue and have been happy since.

Black always looks good. Right after you've washed it. A minute later it will look dirty. I've had a few black cars and love the colour but didn't choose it for this reason.

I saw my first Samoa the other day on an overcast day and was relieved I didn't go for it. It looks amazing in bright sunshine, it's by far the most vibrant colour and the metallic flakes have a crazy pop to them, But with an overcast sky... It looked a bit of a dull, muddy orange and didn't have anywhere near the same wow factor.

Lava Blue, I thought, looks good in bright sunlight and on an overcast day... In bright sunlight the metallic flakes pop and make it look a sea-green colour, on an overcast day it looks a darker blue.
Xcellence 2.0 TDI 190 DSG 4Drive in Lava Blue with:
Digital Cockpit, Top View, Park Assist & Advanced Comfort & Driving Pack Plus 2
---
---
Happy with our rhodium grey
Boring as any other colours available..
I would have been happy if a green would be available.
Rhodium Grey, 1.4 DSG, Virtual cockpit, adaptive cruise control, navigation etc. 19"
Denmark.
---
---
Posts: 6
Joined: Sun Nov 25, 2018 4:14 pm
This is my Ateca in Energy Blue for comparison. Taken on an overcast day in November. I found it hard to find examples of this colour online pre-purchase as everything was CG'd.

This was the only free colour up until summer 2018, but now its free to choose any option.

Looks much better than I thought it would. Not my first choice colour necessarily but really not too bothered either way - loving the car from the inside is the main thing! If I had had the option of any colour for no difference in cost I probably would've gone for Lava Blue or Rhodium Grey.
Ateca in Energy Blue
SE Technology | 68 plate | 1.5 TSI EVO | Energy Blue | Beats Audio | Convenience Pack
---
---
Posts: 205
Joined: Sat May 26, 2018 8:26 pm
With the very limited selection in colours for the FR I'm happy with Velvet Red.
As MBM said a nice green would be cool or one of the older Audi metallic blues.
Velvet Red Ateca 1.5 DSG FR Business Intense + virtual cockpit, 19" RS7 wheels, several VCDS-coding options added
---
---
Another Xcellence Bila White from Switzerland...


1.4TSI DSG Xcellence, FWD, Bila,19", Alcantara Black, Panoramic, 360, all assists, crossover silver interior+side door moldings, connectivity box, virtual pedal, etc. Ordered 13.11.17 - picked up 12.02.18
---
---
---